I spent part of my day Friday styling some new shelves for a client and yesterday working on the ones in my home office. And, while none of them a quite ready to be debuted to the general public, it got me thinking about what makes a well-styled shelf.
Here are some tips I've come up with for making your shelves special. Disclaimer: NONE of these are hard and fast rules. Some of them contradict each other, as you'll see. You have to decide which ones appeal most to you, your budget, and your decorating sensibility. (And the amount of stuff you have to display.)
LAYER CAKE
Think of each shelf as having a back, middle and front. You can use the entire width of the shelf to fill up the depth. (Does that make sense?) You want the back, middle and front of the shelf to each be addressed. Below is a great basic example of what I'm talking about. Emily Clark used framed art in the backs of the shelves, books and decorative objects to fill up the middle and then addressed the front by hanging a picture on the facade of the shelf! (Hanging things on the front is a wildly popular trend these days.)
by
Emily A. Clark
HIGHS AND LOWS
When I was in high school drama, my theater teacher (Shoutout to Brook Doss!) was always worried about the "levels" of the people on stage. She would rearrange blocking (the movement of the people on the stage) and make new pieces of set decoration in the form of boxes, furniture, ramps, or platforms for us to perch on just to get those levels. What she knew then and I realize now is that it's important to fill up not only the horizontal space of the stage (or shelf, in this case), but the vertical space as well. Find items that are tall, medium-height, and short. You can use boxes or books to elevate things even further.
BREAKOUT PERFORMANCE
Do something to make your items stand out. You can do this by painting the back of the cases a special color...
via Young House Love


via
Suzanne Kasler
Or picking vibrant items that stand out on their own.
source unknown
COLOR ME BADD... ER, GOOD
Use your shelves as an opportunity to pull your room's color scheme together. Dress them with objects, frames and books that complete the look found in the rest of your space!
RELAX, DON'T DO IT
Don't get too wrapped up in making everything "fit" the decorating scheme. Use some things that mean something to you personally. Kate used her husband's mandolin and record player in her built-ins that otherwise rely heavily on white ceramic pieces and books. Personal touches like that make cases special and truly one-of-a-kind.
NATURE CALLS
Us natural objects... Or natural-looking objects. Faux flowers, moss balls, succulents... You get the picture. A touch of green in any space adds character and brings the outside in.
CONTAIN YOURSELF
Use bins, boxes, baskets and other containers to hold any "business" you need to put on your shelves. Not only is this more appealing to the eye, but it can help you keep organized. Maybe. ;)
via Mackenzie Horan
HANG TEN
Or just one or two. Things on the front, that is. There's been several examples of this already (because it's a really popular thing to do), but here's another one.
LISTEN TO YOUR HEART
(When he's calling for you... Get it? Anyone?)

Seriously, though. If you want all white books and accessories on a lime green background, do it!
You want a rainbow effect on your shelves? Do it!
These tips don't apply to bookshelves alone: you can use them in many different places around your home.

You can see that Jen Wood maximized these floating shelves by layering the photographs displayed on them.
These mantels from HGTV and DecorChick demonstrate layering and levels beautifully!
You can also apply the tips to decorating console tables!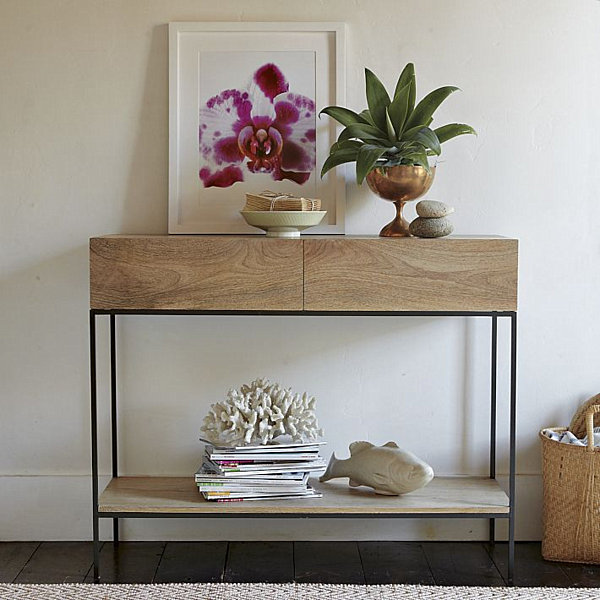 Some day soon I'll share my bookshelf projects with you. Then you can see that I practice what I preach! (Promise.)
Do any of you have shelves, mantles, or tables that could use a little style?
Do you want some help? ;)