With all of the posts I'm reading about outdoor spaces (
here
,
here
,
here
, and
here
), I'm dying to update someone's (perhaps my own?) back yard! The weather here is simply perfect for outdoor time right now. So, I decided (since no one has hired me for a patio project) to write about them! Thus was born: my "Outdoor Living" series, and this is part 1. Welcome.
Really, the very first thing when thinking about updating the back yard is the patio hardscape itself. We have a lovely patio made out of paving stones at our house. Other options for decks include poured concrete (I recommend staining it, too!), a wooden deck (easy to install in a weekend), and flagstone. Grass is (obviously) lovely in a back yard, and you can certainly create seating areas by plopping furniture down in it, but I don't have spectacularly high hopes for your relationship with your yard man OR the grass if you choose to do so. But it's definitely an option if hardscape is non-existant and out of budget for you!
So! Once you have your deck situation worked out, the next thing to think about is seating! You might ask: "What type of seating do I need?" And my response is a 2-part question:
1. How do you use your outdoor space? Do you eat al fresco? Do you sit around chatting and surfing the web while your little ones play? Do you sunbathe beside a glittering pool? All of the above?
2. How much space do you have? You may have room for a conversation area OR a dining area. But you might have room for several different areas: conversation/lounging, eating, plus a fire pit or outdoor kitchen, perhaps?! (More on those elements at a later date.)
Your answer to those two questions should guide you fairly well.
Let's talk materials. There are so many options out there (especially right now), folks. Metal frames always hold up really well, no matter what the weather. (Unless there's salt in the air. Then it might hold up moderately well and have a heck of a patina.) I really love the set Kelly at
View Along the Way
used in her deck makeover, featured on Home Depot's blog
here
.
Another material I've always been really drawn to is wicker, like the lounge set pictured here:
Wooden furniture is also a great-looking option, but can have a really shortened life here in humid, loved-by-termites Texas. If wooden furniture is your jam, plan on spending a pretty penny for teak. It'll last forever.
not gonna lie: I
google
searched this one.
Now you might be saying to yourself: "Those all look beautiful! What if I can't decide?" You can definitely mix furniture types in your backyard seating arrangements.
I have two suggestions regarding this decision:
1. make sure an eclectic vibe is something you're comfortable with,
2. use one type in each space; vary by seating area only
The picture below is a great example of mixing two different styles of furniture material, but she was smart about it and used iron pieces in the lounge area and wicker in the dining area. (Notice the very eclectic, bohemian vibe.)
If you like a more calculated, less collected look, going with all one type is probably a better fit for you. Believe it or not, they make wicker dining furniture to go with the loung-y stuff that is so popular.
Can't you just see this with chair cushions and a great table setting?! Love.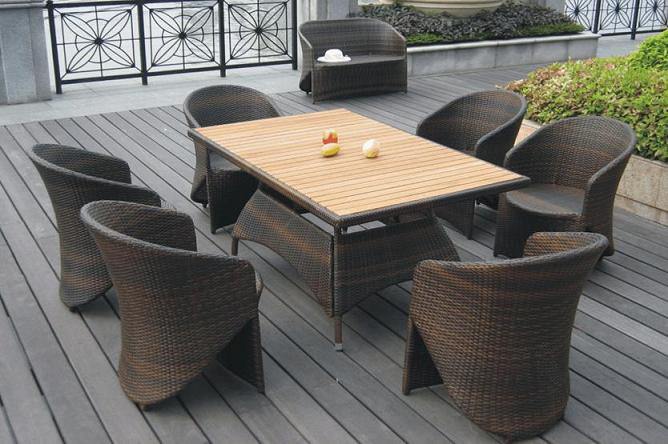 Now, most material options are available in all different aesthetic styles, so don't be discouraged if you don't see a combo of your chosen material and style here! There are literally hundreds of thousands of collections out there to suit every budget, style, and purpose!
What is your favorite material for outdoor furniture? Do you have a desire to dine al-fresco on a dashing deck? What about lounging languidly while little loved-ones lope? (A little aliteration for you, there.) Could your terrace (fancy!) benefit from a trained eye and a focused approach? In other words: do you want some help? ;)
PS. Come back soon for Outdoor Living, Part 2: Contain Yourself!